Honoring Martin Luther King Day and Black History Month
---
"This is not a black holiday; it is a peoples' holiday. And it is the young people of all races and religions who hold the keys to the fulfillment of his dream."
- Coretta Scott King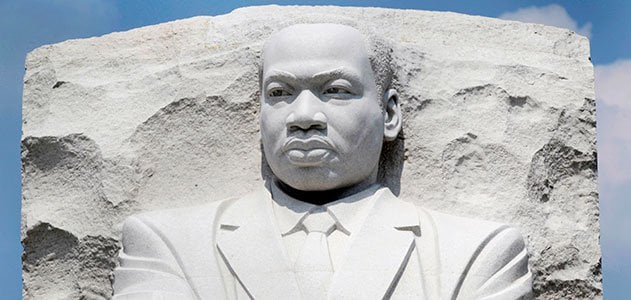 Photo credit: AP Photo / Pablo Martinez Monsivais
FEAP invites you to honor Martin Luther King Day and Black History Month by learning more about the history. We offer the resources below for your education and engagement.
Martin Luther King Day
Except from speech: "Our God is Marching On," Selma Alabama, March 25th 1965
"They told us we wouldn't get here. And there were those who said that we would get here only over their dead bodies, but all the world today knows that we are here and that we are standing before the forces of power in the state of Alabama saying, 'We ain't going to let nobody turn us around."
"I come to say to you this afternoon, however difficult the moment, however frustrating the hour, it will not be long, because 'truth crushed to earth will rise again.' How long? Not long, because 'no lie can live forever.' … How long? Not long, because the arc of the moral universe is long, but it bends toward justice."
View the full speech or watch the video
Websites to explore:
Black History Month
28 Facts in 28 Days:
Join us in learning about African Americans who have made history
Black History Month began in 1926 as Negro History Week.
In 1959 Ella Fitzgerald and Count Basie became the first African Americans to win a Grammy.
In 2021, President Joseph R Biden signed legislation that established Juneteenth as a national holiday.
Benjamin Oliver Davis Sr. In 1940, Davis became the first African American to obtain the rank of brigadier in the U.S. Air Force.
George Washington Carver: Carver who was born to slaves, became the first African American student and faculty member at Iowa State University. Carver would go on to create more than 300 peanut-based products.
George Speck Crum: Crum invented potato chips in 1853.
Alexander Miles: Miles is the inventor of automatic doors. On October 11, 1887, Miles was awarded a patent for the elevator door.
Garret Morgan: Morgan invented the three-position traffic signal. The inventor patented his product in 1923. Morgan also invented the safety hood which was the precursor to the gas mask.
Marie Van Brittan Brown: in 1969 Brown and her husband Albert were awarded a patent for the first home security system.
Hattie McDaniel: in 1940 McDaniel became the first African American to win an Oscar. The actress won an Academy Award for her role in Gone with the Wind.
Henrietta Lacks: In 1951 Lacks sought medical treatment at Johns Hopkins Medical center for cancer treatment. During that time, Henrietta's cells were stored and used for research without her permission. Henrietta Lacks' cells were the first human cells able to "reproduce indefinitely" (The Legacy of Henrietta Lacks, n.d.).
L. Douglas Wilder: In 1990, Wilder became the first African American to become Governor of a U.S. state post-reconstruction. Wilder served as Governor of Virginia from 1990-1994.
Shirley Chisholm: Chisolm served as the first African American Congresswoman in the 91st congress.
Barrack Obama: In 2008 Barrack Obama became the first African American elected to the United States presidency.
Jackie Robinson: In 1947 Robinson became the first African American to play in the MLB. Robinson played for the Dodgers.
Ketanji Brown: On April 7, 2022, Ketanji Brown became the first American woman sworn into the U.S. Supreme Court. Brown was confirmed with a bipartisan senate majority.
Ralph Bunche: In 1950 Bunche was the first African American to win a Nobel Peace Prize. Bunche received the award for the work he did in the late 1940s during the conflict in Palestine.
Jack Johnson: In 1908 Johnson became the first African American to win the title of Heavy Weight Boxing Champion. Johnson maintained his title until 1915.
Macon Bolling Allen: In 1844 Allen Became the first African American licensed to practice law. Allen was licensed in Ohio.
In 1976 President Gerald Ford began the time-honored tradition of presidential Black History theme selection. The theme for 2023 as selected by Joseph Biden is "Black Resistance."
Robert L. Johnson: In 2001 Johnson became the first African American Billionaire
Art Shell: In 1989 Shell became the first African American to serve as a head coach in the modern NFL. Shell coached the raiders between 1989-1994, returning in 2006.
Gwendolen Brooks: In 1950 Brooks became the first African American to win a Pulitzer Prize.
Tiger Woods: In 1997 Woods became the first African American to win the U.S. Masters.
Leontyne Price: Price is an acclaimed opera singer, Price performed at the MET 204 times.
Walter N. Ridley: In 1953 Ridley became the first African American to receive a degree from the University of Virginia.
William Dorsey Swann: Swan was an LGBTQ+ advocate in the 1900s and is hailed as the first queen of drag. Swan was born into slavery and later used his freedom to advocate for LBTQ+ rights.
Bessie Coleman: On June 15, 1921, Coleman became the first African American woman to earn an aviation license.
Black History in Virginia, A Family Road Trip
Visit historical sites right here in Virginia and learn about the people and events that make the sites historical
Freedom Friday Movie Night
Film has the ability to share stories, unite and educate. Below is a list of family friendly movies that are informative, entertaining, and empowering.
The Color of Friendship (2000): This Disney movie is set in the 1960s and conveys the experience of an interracial friend group. This movie is available on Disney+.
The Long Walk Home (2020) : Starring Sissy Spacek and Whoopi Goldberg, this movie depicts the unique relationship between a woman and her housekeeper during the 1955 Montgomery Alabama bus boycotts. This movie can be viewed for free via Freevee, Pluto, and Tubi.
Harriet (2019): Harriet shares the life and experience of the great Harriet Tubman. This movie is both heartwarming and empowering.
Hidden Figures (2017): Hidden Figures conveys the stories of three African American women whom played an instrumental role in the NASA orbit launching of astronaut John Glen. This film is available on Disney+
Loving (2016): Loving shares the heroic love story of an interracial Virginian couple. The film shares how the Loving's impacted the way Virginians love today. This Film is available on Netflix.
42 (2013): 42 shares the story of the legendary Brooklyn Dodger, Jackie Robinson.
Black History Soundtrack
"Brown Skin Girl" - Beyonce
"Get Up, Stand Up" - Bob Marley and the Wailers.
"Strange Fruit" - Billie Holiday
"What's Going On" - Marvin Gaye
"A Change Is Gonna Come" - Sam Cooke
"Say It Loud, I'm Black and I'm Proud" - James Brown
"Freedom" - Beyonce and Kendrick Lamar
"Glory" - John Legend
"Black Butterfly" - Denice Williams
"Someday We'll All Be Free" - Donny Hathaway
"In a Sentimental Mood" - John Coltrane
"Lift Every Voice" - Michael Cooper
Circle of Light UVA Group
The Circle of Light (COL) was developed in partnership with the Population Health Department and FEAP for the purpose of creating an emotional wellness space where individuals can process their experience with racial trauma through the exploration of shared stories and lived experiences. COL will also help participants understand how racial trauma can affect their mental and emotional well-being and to incorporate ways to interrupt the trauma response by drawing upon culturally-grounded healing strategies.
We welcome and invite you to virtually drop into the Circle of Light on the 4th Thursday of each month to be seen, heard, felt, and to let your light shine!
Facilitated by Arminda B. Perch, MBA, MSW, and Pamela Meredith Hamilton, MAMF, Mental Health Ally