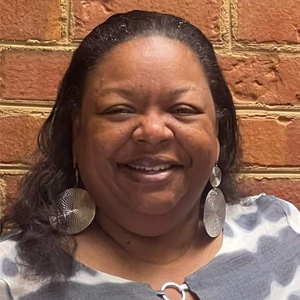 Leslie Harris Scott
Master of Education, (2002) University of Virginia. Licensed Professional Counselor since 1992. 
Leslie Harris Scott is a native of Charlottesville, who attended the University of Virginia (Psychology) and Old Dominion University (Human Services Counseling) for undergraduate degrees. She completed her graduate degree studies in Counselor Education from the University of Virginia's Curry School of Education and has worked as a Mental Health Professional for over 25 years.
Leslie has worked as a Mental Health Therapist at the Fluvanna Correctional Center for Women (FCCW). In the past, she has worked in her community as a Counselor for Youth at Teensight, a Social Worker at both the Charlottesville & Albemarle County Departments of Social Services. In addition, she has served as a Mental Health Professional in the Access Division of the Region Ten Community Services Board.
Leslie presently serves as the 1st Vice President of the Albemarle-Charlottesville NAACP and as a Board Member (& Past Chair) of the Barrett Early Learning Center. In the past, she has also served on many community boards such as the AHIP, Weed & Seed Network, the African American Cultural Arts Festival, and as a Commissioner on the Commission on Children & Families.